2017 – 2018 MCS Parent School Alliance
Montessori Community School Parent School Alliance
(PSA)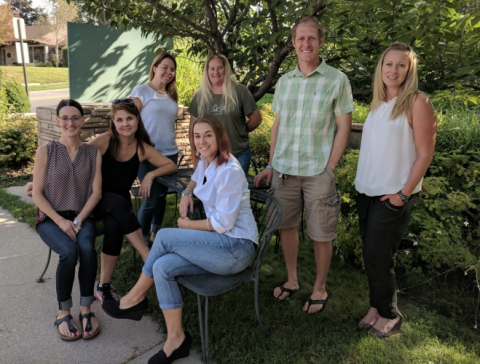 L-R: Gaea Rindflesh, Teresa Nelson, Jordan Stein, Jeannette Shaffer,
Dave Quisenberry, Jaymison Peterson and (below) Jen Zivkovic
The MCS Administration is delighted to introduce you to our 2017 – 2018 Parent Student Alliance (PSA). We are pleased to have a larger number of PSA representatives than ever before. We appreciate Jeannette, Dave, Jaymison and Jen for joining us again this year as our veteran PSA and we thank Gaea, Teresa, and Jordan for joining the team!
The PSA is already looking forward to and has a jumpstart on planning many PSA sponsored activities this year. We anticiapte seeing many of you at the upcoming Welcome Picnics where you can meet members of the PSA and will be introduced to the Community Builders from your child(ren)s class.
We are also looking forward to our first Coffee Thursday, this coming week September 7th, from 8:30am-9:30am in the lobby. Don't forget to bring your cash because the Uinta (Upper Elementary) Class will be hosting their first Montessori Market of the year. Montessori Market is a quaint student-hosted event where hand made items are sold for reasonable prices. Baked goods are among the items you can expect to see at each market. All proceeds from the market go towards the Uinta class Adventure (read about last year's adventure here.)
Along with your delicious baked goods, be sure to enjoy a complementary cup of coffee, tea or hot chocolate while enjoying the company of fellow MCS parents. Coffee provided by Hub and Spoke Diner 1291 1100 E, Salt Lake City, UT 84105.