Montessori Community School Private Salt Lake City
Attention Parents:
There will be a new Studio Class starting up this October. All Early Childhood students and Elementary students are welcome to sign up. Please find the registration forms in the MCS lobby. The classes will take place in the MCS Art Studio.
The Early Childhood class will take place on Mondays and the Elementary class will take place on Wednesdays. Every session will be focused on a different form of art. Each week there will be warm-up project to take home and the students will also have the opportunity to work on a large project that will be completed at the end of the session.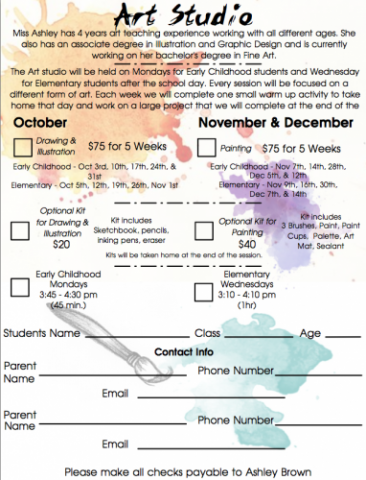 The class will be taught by Ms. Ashley Brown. Ashley has four years of art teaching experience working with all different ages. She also has an associate degree in Illustration and Graphic Design. She is currently working toward her bachelor's degree in Fine Art.