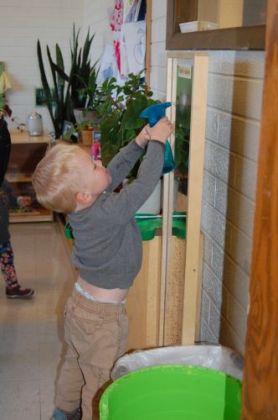 The biggest challenge parents face is their children's drive for independence. A toddler or a preschooler's drive for independence is even fiercer than a teenager's. While a teenager may be looking to undo parental control your preschooler is looking to share control. They are trying to become part of your world by taking responsibility for their own actions.
This drive for independence is slow and messy. Learning to walk – the first great independence is full of falls and scares (more for Mom than for baby). And it is a slow and unsteady success. Even when they accomplish vertical independence their rate of locomotion impels us to pick them up and carry them if we want to get anywhere now.
Learning to feed oneself is a second (and very messy) independence. Graduating from hands to utensils is a major success of coordination and development. Again, if we want to finish dinner before breakfast we wind up feeding our child.
The third independence is the ability to communicate – to be able to share desires and wants. Ironically, after Ma Ma and Da Da often comes the independent word No.
The fourth independence is often the ability to dress oneself. It is often a laborious, time consuming frustrating adventure trying not to get your head in your sleeve or putting your pants on backwards. ("What do you mean I have my shoes on the wrong feet?" "These are the only feet I have.") Stripes and polka dots are just fine together – blinding maybe – but fine. This is about independence not aesthetics or style.
The fifth independence is usually potty training. Children have their own timetable and level of comfort with the process. We often think they are trained when we constantly ask them if they have to go potty. This independence is achieved for their convenience not for ours, even though it is our convenience that pushes the training. My wife always shared with anxious parents that she had never been to a wedding where the bride or groom walked down the isle in pampers. Relax!
Their independence is bought at the cost of our time. Their fight for independence is against our schedules, against our limited flexibility in our day. They don't mean to slow us down, they just want to do it themselves. They don't mean to make messes (which takes time to clean up) they just want to do it themselves. How are they ever going to pour milk from the gallon jug unless they try (and try and try and try?)
The challenge of childhood independence is that it is never perfect. They can't sweep a floor as well or as quickly or as thoroughly as the adult. But how will they ever learn unless they try? "I will just wait until they are older" is a proven recipe for unmotivated, incompetent, uninvolved teenagers who then resent the end of a ten or fifteen year ride of being served with no responsibility attached.
"Help me do it myself" is the foundation of adult responsibility birthed into our children long before they can do it by themselves. "Help me do it myself" is the great gift parents give their children. It is not only the accomplishment of the task that affects the children – giving rise to feelings of competence but it is the feeling of confidence that comes because they know that we believe in them. When we tell our children that they can achieve anything they set their hearts and minds to – they believe us because we have been their cheerleaders for independence and success.
Edward Fidellow
www.crossmountainpress.com