MCS Introduces Installation of Solar Panels
In early September 2013, Montessori Community School of Salt Lake City will complete installation of one of the largest private solar energy systems in the state.  When completed, the large 52.2 kilowatt solar photovoltaic (PV) array, will create enough electricity to provide most of the school's energy needs throughout the year.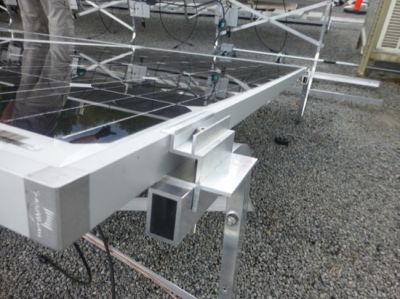 To add to the energy efficiency of the system, 197 Enphase micro-inverters (one per solar panel) are used to optimize energy output by working independently to harvest each panel's potential, thereby mitigating the affects that periodic shade, snow and other factors may have on the collectors. A monitor screen in the school will be able to track the system's performance in real time as a learning tool for students and as a special interest feature for parents and interested public.
Dr. Bob Buchanan and his wife, Robyn Eriwata-Buchanan, who own and operate the school, applied for Rocky Mountain Power's Solar Incentive Program earlier this year. Through this annual program, Rocky Mountain Power provides a rebate of a portion of the overall costs to selected residential and commercial electricity customers who install solar collectors. The system, which was designed and installed by Intermountain Wind and Solar, one of the region's largest solar installers, is expected to operate for maintenance-free life of more than 25 years. Using quality American-made 265 Watt SolarWorld solar modules and an innovative tilted racking system manufactured in Utah County by TRA, Montessori's new net-metered system is a renewable energy landmark for students, teachers, and the community atop this historic school building. These photo voltaic solar panels will provide an estimated 90% of the schools power and the remaining 10% will be supplemented by Rocky Mountain Power's Blue Sky Renewable Energy.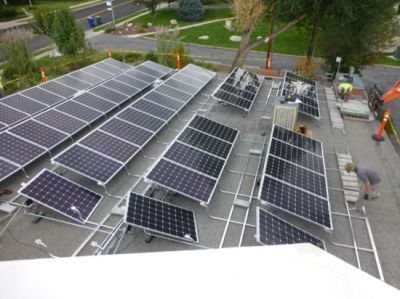 The project has a three-fold purpose, to reduce energy usage for the school, provide renewable energy education for its students, and raise community awareness of renewable energy options. The installation is expected to reduce the school building's electrical energy use by more than 95 percent each year, and demonstrates the Buchanans' efforts to promote and support renewable energy in Salt Lake City.
As always, Bob and Robyn's vision is an inspiration to the Montessori Community as we have the opportunity to be a part of this incredible process. The project not only reinforces our commitment to green education but also allows our students the opportunity to learn and observe, on a daily basis, the science behind the process.
Warm appreciations and congratulations to Bob, Robyn, Rocky Mountain Power, and all others involved in this process.
Current Energy Production on Montessori Community School's Solar Panel Array