Betty Jean Sawyers Lorenz
Betty Jean Sawyers Lorenz was 94 years young when she died. She was Bob's auntie and welcomed me into the family with open arms. Betty Jean was an incredible smart, generous, feisty woman. She was a ski instructor at Park City for years. She is remembered for all the baby showers she hosted for her many nieces and sharing her home at Bear Lake for our Sawyers family reunions. I loved her dearly and she will be missed so much by all of our Sawyers family and her many close friends.
One of her daughters is Julia Cook who is the author of 44 children's books that are used extensively by Amanda (our Student Support Coordinator) and so many teachers around the world.
-Robyn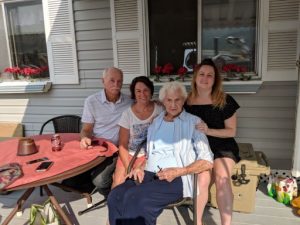 Betty Jean at her Bear Lake house
Rosaleen (Rosie) W. Fenn
Last week I said goodbye to my Aunt Rosie. She left us at the young age of 99 1/2 years old, just a few years shy of her goal of 102! My Aunt Rosie was a woman with a twinkle in her eye, who always made you feel that you were her "favorite"! This past March she continued to lead us each year, riding on the family float, for the St Patrick's Day parade in Price Utah. She has brought lessons of joy, love and laughter that will stay with us forever. Memories of her will always bring a smile to my face.
– Nanette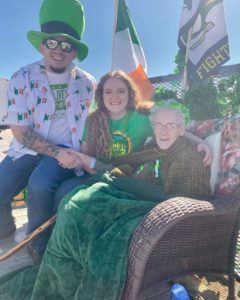 This picture was on her final float in the St Patrick's Day parade. She was the Grand Marshall in 2007.