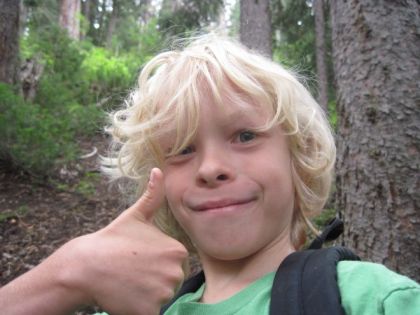 Montessori parents have often voiced concerns about creativity in a Montessori classroom. They just don't see it. The concern is very similar to the fact that they also see few "academic" papers coming home. They don't receive many brightly painted pictures to adorn their refrigerators. And so naturally wonder if a Montessori classroom is giving their child an opportunity to express their creative side.
As concrete and hands on as a Montessori classroom and a Montessori learning experience are it requires a good measure of faith to await the outcome of a Montessori experience. Every Montessori teacher (and parents too) for the last one hundred years have often held their breath waiting to see the fulfillment of this amazing process. And then they exhale with great relief and satisfaction. After a while you no longer hold your breath because you know it is going to work – and even better than you imagined – because you see your children learning and growing.
So how does this apply to creativity which seems to be in short supply as far as "art work" is concerned? The creative experience in Montessori is an internal experience. The great creativity is focused on the child creating their own personality. They are forging who they are to become by internalizing all of the experiences of both home and family with their experiences of discovery and exploration in the classroom, mixing these with the intangible aspects of their own DNA, their talents and gifts, inclinations and proclivities. They are taking in these seemingly random elements and creating the uniqueness of who they are.
Their great creative work is themselves.
In a traditional classroom environment children are forced into a mold; fairly standardized and compartmentalized. Doing what everyone else is doing, becoming what everyone else is becoming; rushing headlong to achieve external goals that are set without regard to their personality, character, ability or interest. And from this their only escape from this standardization is the occasional art work sent home.
In a Montessori classroom this unique creativity of their personality is an ongoing daily occurrence as they discover the world about them, as they discover the joy within them that rises as they discover the joy of all the creation about them. They are not rushed from subject to subject but get to explore and enjoy the mystery of how numbers work or the mystery of how their language is put together. They discover animals and leaves, science and art. They develop their senses. And it is those senses that create in them the wonder and the enjoyment of the learning that is all about them. They are creating within themselves reservoirs of joy and fascination, interest and passion. (They will learn the names of all the dinosaurs or rock formations or a hundred different avenues of learning because they have created a passion for it out of their daily experiences and discoveries.)
This ongoing creative experience blossoms within them as they are introduced to music and art, color and form. They become experienced (and passionate) observers of all that is around them. Their early experiences with what the Montessori classroom labels the "sensorial" materials heightens and trains their senses. Those pink cubes and the red rods, the circles and squares, the colors and sounds are laying the creative foundation within the child preparing them physically, psychologically, aesthetically and intellectually for a creative response to all of life that is around them.
The real music they learn to sing, the real art they learn to create in their life will arise out of the great work of creating their own personality. Their creativity in Montessori will not only be an escape from the drudgery of traditional learning and conditioning but will be a magnificent expression of the joy they find in learning and the world all around them. While you may not have many pictures to put on your refrigerator you will have a living portrait of a child full of joy and wonder. Now, that is a creative marvel!
Edward Fidellow
www.crossmountainpress.com