Montessori Education Foundation Funds and Gifts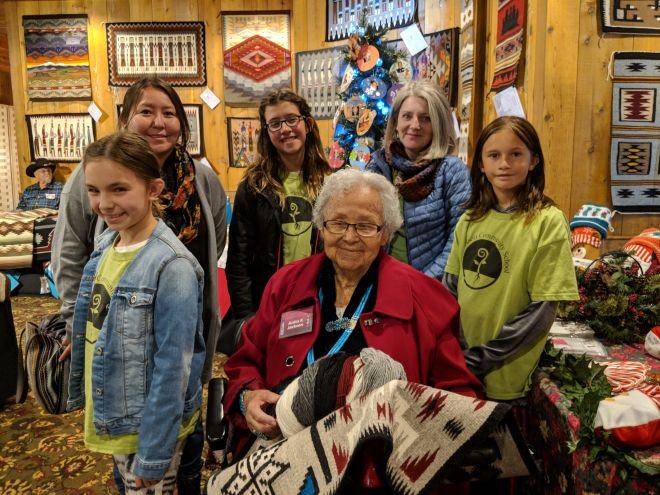 Thanks to your generosity during our Fun Run Drive this past Fall to our non-profit Montessori Education Foundation (MEF). We were able to send or order the following items to our sponsored Navajo Grandmothers this week through the Adopt-a-Native Elder Program.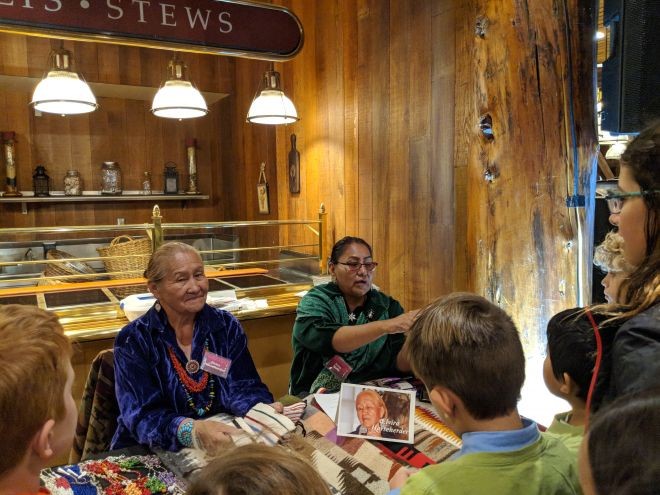 Mothers Day Box-
Spring Delivery only and delivered during the Spring food run. This gift box fills a need to provide personal care items that are not contained in any other gift option. It contains Cottenelle wipes, Kleenex, a wash cloth, bath towel, vent brush, bobby pins, Vaseline, shampoo, sanitizer, emery boards, and a bandana.
Grandmother Box –
This box contains 3 yards of Panne fabric and 4 yards of cotton fabric for making a skirt and blouse. Also included are safety pins, socks, scarf, thread, yarn, and a hygiene kit. The price of this item includes a credit card charge.
Food Certificates that can be used at all Bashas grocery stores located throughout the reservation. The certificates can only be used to purchase food and off-the-shelf medical items. They cannot be used for alcohol, cigarettes or lottery tickets. They are available in $25 increments. A credit card processing fee is included.
Yarn to weave rugs that she can sell at the Deer Valley Rug Show- Weaving allows many Elders, usually women, to sustain themselves in their traditional way. A yarn bundle supplies enough yarn for an Elder to make a 3'x5′ rug. Orders for yarn bundles will be sent out to the Elders as they are received unless it is close to a food run in which case the order will be delivered then.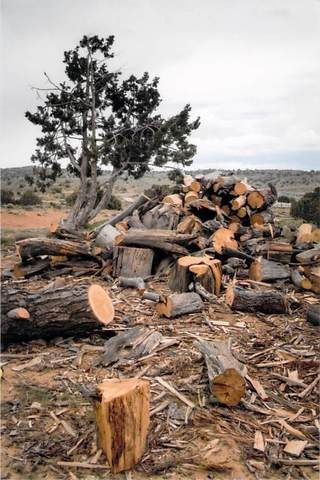 3 orders of firewood (in this case that payment will actually go towards electricity bills at her daughter's home where she is now living. When we spent time with her at the Rug Show she mentioned that she gets very cold and had to turn the heat up high and that adds a considerable cost to her daughter's heating bill.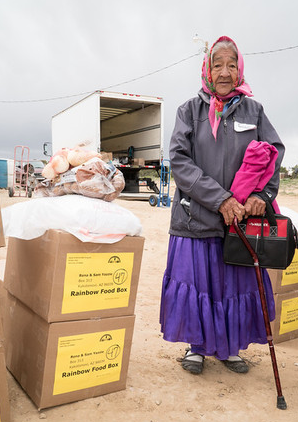 Food Box to be delivered at the Spring Food Run -Elders at the Dilkon, Leupp, Birdsprings, and Pinon food runs have indicated a preference to receive a Bashas food certificate rather than a set of food boxes of comparable value. These Elders live in areas where shopping at Bashas is relatively convenient, and with the certificate they can make their own choices of food items. If you're not sure which food run area your Elder attends, we will make sure that the appropriate choice of boxes or certificate gets to them.
A $250 gift card from Walmart
The total cost for these items was approximately $1800 and this allows us to send additional yard, food certificates and a Rainbow Box in the Spring.
Our grandmothers will be grateful to receive these gifts and especially during the Holiday Season.
Thank you again.
Robyn, Britney and Ashlee