Robyn's Message to the Community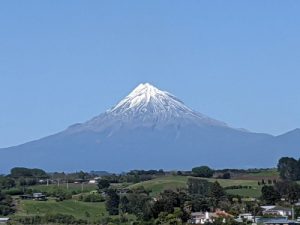 Mt. Taranaki
I arrived home in New Zealand, after a 28 hour journey, with connections in LA, Nadi – Fiji and Auckland, feeling a little exhausted but after a quiet day there have been a whirlwind of events.
Over New Zealand's Labour Weekend we had our Waitara High School 75th Jubilee. In New Zealand we do not celebrate with individual class reunions but with the whole school invited to however many years that school has been operating. This was a very special event.
The weekend was filled with activities, but the most important being the opportunity to catch up with my classmates – many of whom I had not seen for years. Our town had a population of 4,000 when I was growing up so we basically knew everyone and had grown to 7,000. We had amazing teachers and there are many members of our community who have made major contributions in many areas -Sir Richard Faull who is on the cutting edge of brain research in such areas as Huntington's Disease, Dr. Michelle Bannister who is a planetary astronomer and at the age of 36 has a star named after her, and Darcy Nicolas who is a well known painter whose work is exhibited and sold around the world. I am friends with Richard and Darcy but it was fascinating listening to their stories. And then there was the food and the dancing, a really wonderful time all around.
That same weekend, whenever there were no events at the Jubilee, our Bailey Whanau (family) had a reunion at our Otaraua meeting house. I had not spent time with some of my cousins, who live far from here, for several years so it was wonderful being able to catch up on their lives.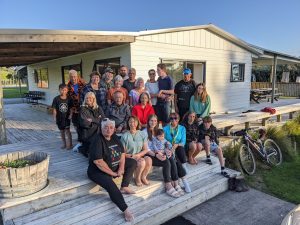 Our Bailey Whanau
During any spare moments, during the rest of my time at home, my sister Pamela and I have been catching up with close friends and particularly spending time with two who are not doing well. Pam and I feel fortunate to be here again to do what we can to help and she will be staying on for maybe two months to support them and other friends in another city. It is a real gift for us.
Today we are leaving our home in Onaero and driving south to Whanganui, where we will stay with a special friend tonight, before catching a train in Palmerston North ( a town about one hour from Whanganui and the city where we went to Teachers College – a considerable number of years ago) that will take us to Wellington, our capital city, where my daughter, KereAna, lives.
As you can imagine I am really looking forward to having a few days with KereAna. She is in the midst of planning for a fairly major renovation project and Pam and I will be helping her make some last decisions.
So for now Haere Ra and I do hope that all is well with each of you.
And once again I would like to thank you for your ongoing support.
Aroha,
Robyn